Also known as leucoderma, vitiligo is one of distressing skin conditions marked by the steady loss of melanocytes, which are responsible for manufacturing melanin pigments in different skin layers, resulting in irregular white patches.
The white patches on skin could appear on any body part. Moreover, this issue could even impact the mouth, eyes and nose of a sufferer. Those people with dark skin tone seem to be noticed vitiligo symptoms than those with fair skin. Moreover, this condition is often found in those people having certain autoimmune system. It can also happen at any age and gender, but it seems to be more common in women than men.
The common symptoms of vitiligo are small white spots at first and then white patches later. Because these spots enlarge, they will merge into another one, forming a broad patch. In some severe cases, the skin of the whole body parts will be covered with these patches. However, the spread of this condition is rather slow but progressive. It is varied in shape, size and intensity.
When it comes to vitiligo's causes, there are some common causes, which are autoimmune disorders, hereditary factors, accumulation of toxic radicals, nervous secretion, nutritional deficiencies, and other triggers like mental distress, sunburn, and some physical illnesses.
Basically, vitiligo does not spread by food or contact and is not contagious. Some people say that vitiligo is a precancerous condition but in fact, it is not. To help you figure out how to treat vitiligo naturally at home without medications, we from Healthy Guide have gather top best home remedies for vitiligo on face and lips using natural ingredients. Check out below!
28 Must-Know Home Remedies For Vitiligo On Face And Lips
1. Gingko Biloba
According to researchers, gingko biloba could be useful in treating vitiligo because it has immunomodulatory and antioxidant properties. Also, it helps to slow down the progression of vitiligo and induce the repigmentation. Vitiligo sufferers are recommended to use 40 – 80 mg of this plant thrice per day. But, for the best, you should consult your doctor to know the appropriate dosage of this herb used for yourself.
Read more: List Of Natural Oils For Skin Care – Top 30 Great Oils To Apply
2. Babchi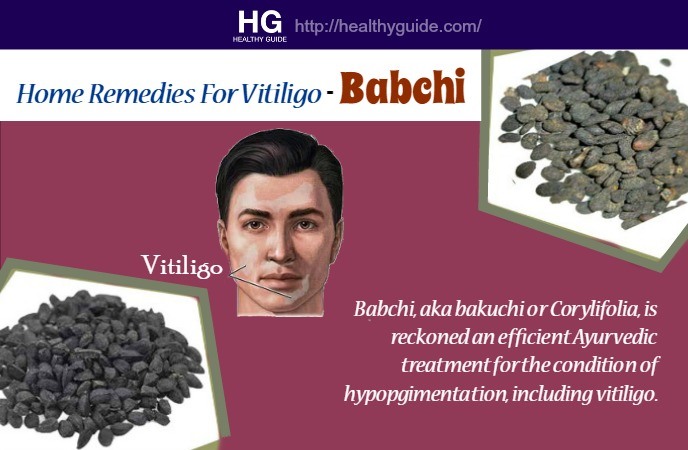 Babchi, aka bakuchi or Corylifolia, is reckoned an efficient Ayurvedic treatment for the condition of hypopgimentation, including vitiligo. It is becaue of the active components which can alleviate white patches. Besides, with antipsoriatic properties, babchi is also useful in treating psoriasis. The herb's seeds have isopsoralen, bavacholone, psorale, dehydroisopsoralidin, and corylin. This plant has been praised as among the best anti-aging medicines, which gives the human skin a glowing and beautiful texture. Thus, corylifolia is one of the best home remedies for vitiligo on legs, lips, and face.
There are two ways to use bakuchi for treating vitiligo:
1st method:
Grind 3 teaspoons of Corylifolia seeds into a good powder

Sprinkle water into the powder to create a good paste

Apply the paste over your affected skin areas, but remember to expose to the sunlight for about 20 minutes in advance. Repeat this process 2 times per day for a few weeks.
2nd method:
You can take a small amount of babchi seeds and soak it in the ginger juice for about 3 days. But you should replace the juice daily.

After that, use your hands to rub the husks and dry them under the sunlight.

Grind them to create a good powder.

Take 1/5 teaspoon of this powder together with a glass of milk every day for 40 days. Also, you can apply the powder topically.
As an alternative, you could also apply the oil of this plan on your infected skin and let it expose to sunlight for 15 minutes. The mixture of babchi oi and black seed oil is another good way to take advantage of babchi for vitiligo.
Whilst consuming this herb internally in the precise dosage does not cause side effects, exceeding the used dosage may lead to nausea, diarrhea, and vomiting. But, external use is rather safe.
3. Mustard Oil And Turmeric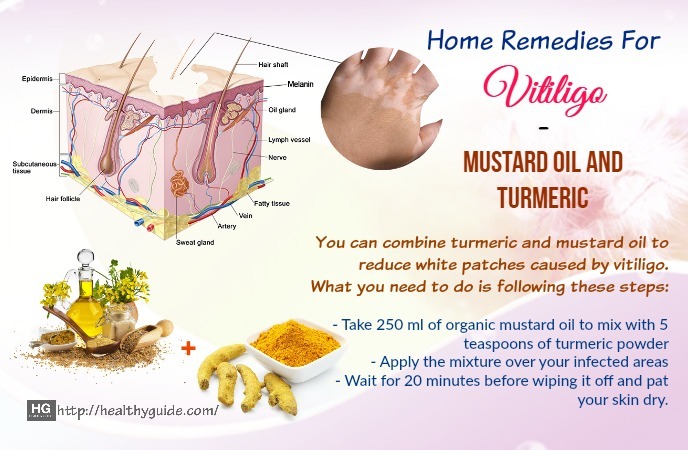 You can combine turmeric and mustard oil to reduce white patches caused by vitiligo. This combination will give you an effective home remedy (among many other home remedies for vitiligo) that creates significant improvements in your vitiligo condition.
What you need to do is following these steps:
Take 250 ml of organic mustard oil to mix with 5 teaspoons of turmeric powder

Apply the mixture over your infected areas

Wait for 20 minutes before wiping it off and pat your skin dry.

Apply this method two times per days for a few weeks to see the best results.
4. Apple Cider Vinegar
As mentioned earlier in this article of the best home remedies for vitiligo on legs, face, and lips, vitiligo is occasionally caused by fungal and bacterial infections that could eat away the human skin and inhibit the melanin production to replace those lost skin cells. In such cases, apple cider vinegar is a good solution, which contains acidic properties helping to inhibit bacterial growth. Take these steps to get rid of vitiligo symptoms:
Mix 1 teaspoon of apple cider vinegar with 2 teaspoons of water

Apply this mixture over the infected areas 2-3 times per day

Also, you can use this solution to wash the affected skin.
As an alternative, you can add apple cider vinegar to your warm bath before soaking in it for 15 minutes daily for a quick relief.
Learn more: Top 15 Ways On How To Remove Skin Tags Quickly
5. Honey
Containing anti-fungal and anti-bacterial properties which help deal with various skin infections, such as vitiligo, honey is really one of must-try home remedies for vitiligo on face and lips. Honey can be absorbed quickly by the skin and could eliminate the bacteria causing infections. Also, it promotes rapid healing of infected areas.
Wash your infected areas appropriately with clean water and pat it dry with a soft cloth.

Then, apply raw organic honey on your white patches.

Wait for 15-20 minutes to let the skin absorb that honey before rinsing it off with tepid water
Also, you can apply this alternative:
Mix 2 tablespoons of honey with 1 teapsoon of sandalwood powder, 1 teaspoon of turmeric powder and 1 teapsoon of rice powder.

Apply the mixture over your patches and wait for it dry naturally

After that, rinse it off with cold water

Reapply this method twice per day for the best results.
6. Ginger
It is believe that ginger is among the most excellent home remedies for vitiligo on legs, face, and lips. It can boost the blood circulation and help with the production of melanin. Regular intake can improve the blood circulation to the infected areas. Increased blood flow in the area will boost healing and remove the infection that causes bacteria.
Cut a piece of fresh ginger to rub the juice over your white patches

Also, you can mix ginger juice with red clay before applying to your white patches for 15 minutes or so.
Alternatively, you could extract the juice of ginger to mix it with water plus with lemon juice. Drink this mixture twice per day to relieve vitiligo symptoms effectively.
Check out: 21 Home Remedies For Psoriasis On Face, Hands, Legs & Scalp
7. Cabbage
Looking for home remedies for vitiligo that are not only effective but also easy-to-find? Then, go for cabbage. This plant will alleviate the appearance of vitiligo symptoms. Take advantage of its juice to get the best effects.
Take a few cabbage leaves to grind and extract the juice

Apply the juice over your white patches for 10 minutes a few times per day
Or, you can make this alternative:
Boil a few cabbage leaves in hot water for 10-15 minutes

Wash your infected skin with this solution for desirable and quick results
8. Radish Seeds
Considered as an effective home remedies for different skin issues like vitiligo, radish seed application to the infected skin will help clear your infection, improve the growth of new skin cells to replace for the dead ones.
By using radish seeds, you will decrease the occurrence of white patches over time.
– Take a small amount of radish seeds to grind to create a powder
– Mix it with 2 teaspoons of diluted apple cider vinegar
– Apply the mixture over your infected skin
– After 30 minutes, wipe it out. Follow this routine twice per day for better results.
If there are not radish seeds, you can use radish leaves as an alternative.
9. Vitamin E Oil
When it comes to home remedies for vitiligo on legs, face, and lips, vitamin E oil is widely known due to its effectiveness for not only lessening the severity of the condition but also softening the skin. This oil has potent to rejuvenate the skin, promoting fast recovery from infections. Also, vitamin E also keeps the skin hydrated, preventing the irritation and itching which sometimes associate with white patches.
You can apply pure vitamin E oil on your infected skin areas a few times per day.

Wait for 30 minutes to help the skin absorb the oil entirely

Wipe it out using tepid water
You may want to read: How To Remove Sun Tan From Face & Hands Naturally – 34 Ways
10. Copper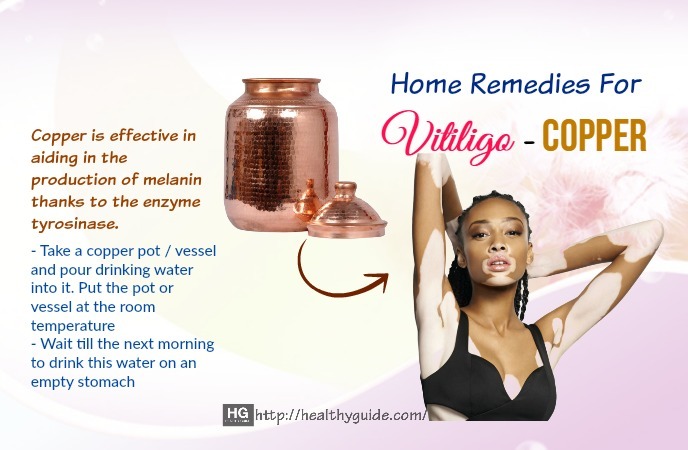 Copper is effective in aiding in the production of melanin thanks to the enzyme tyrosinase.
Take a copper pot / vessel and pour drinking water into it. Put the pot or vessel at the room temperature

Wait till the next morning to drink this water on an empty stomach
Copper ions will stimulate the production of melanin within your body, thereby reducing the appearance of white patches and prevent the recurrence of this problem. Do not keep the pot in your fridge because it may damage the efficiency of copper ions.
11.  Cucumber
If you are looking for an easy-to-make home remedies for vitiligo on legs, face, and lips, do not skip cucumber. The juice of this plant can cure the symptoms accompanied with vitiligo.
Mix 100 grams of cucumber juice with 100 grams alfalfa

Then, drink that solution twice or thrice per day till 2-3 months to see good results
12. Papaya
Consuming papaya, particularly its juice, on a regular basis will cure the problem. You could also make use of crushed papaya to put them onto your white spots twice or thrice per day till you see good results of vitiligo relief.
13. Red Clay
Did you know that red clay also contains copper content? In fact, using red clay also helps you restore the skin pigment as well as eliminate white patches.
Mix the same amounts of ginger juice and red clay together

Apply the paste over your vitiligo

Wait till it dries entirely before rinsing it off

Apply this method every day for several months
14. Neem
Neem is good for curing skin issues, including vitiligo. Experts say that neem if taken internally can purify the blood and boost immune system naturally.
Mix buttermilk and crushed neem leaves to create a good paste

Then, apply it over your white patches and wait till it dries entirely

Rinse it off after that
You should follow this method every day for at least several weeks.
Or, you could also make use of neem oil which then will be diluted. The mixture of coconut oil and neem oil is a good solution for vitiligo symptoms. For better and quicker results, you should drink neem juice or take the supplement of this herb every day for several months.
15. Duckweed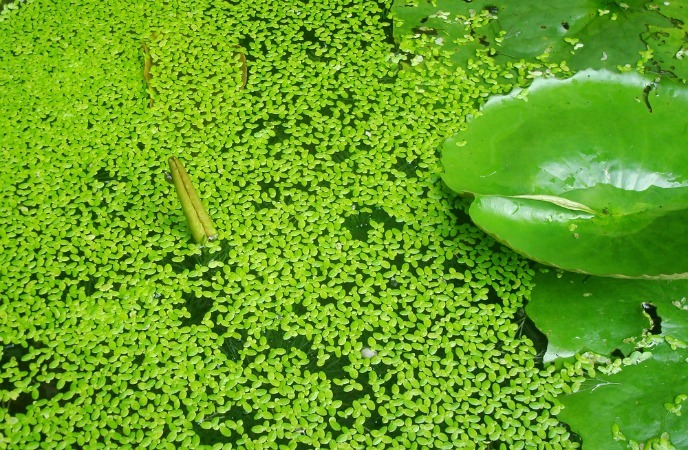 Duckweed, a kind of water plant which is rich in lignin, can help restore the natural color of your skin.
Grind a small amount of duckweed to create a good paste

Then, add one teaspoon of honey before drinking it

Apply this routine twice per day, after your meals. The good results should be seen after 1 month.
16. Goosefoot
This is a lesser-known remedy for goosefoot, but has a variety of medicinal properties. Not mention to having high traces of vitamins as well as minerals, goosefoot also has a high concentration of folic acid and protein. You should eat this veggie once per day and extract the juice of goosefoot leaves to apply directly over you white patches. This will help eliminate vitiligo symptoms naturally.
17. Papaya
Another good ingredient for reviving and restoring melanin is papaya. As mentioned earlier in this checklist of home remedies for vitiligo on face, lips, and legs melanin is in charge of skin pigmentation. Apart from drinking papaya juice daily, you should also take these steps to get rid of vitiligo symptoms:
Take several pieces of papaya and rub them onto your infected areas

Let it dry before applying another piece onto, make sure that the juice can penetrate your skin properly.
18. Psoralea Seeds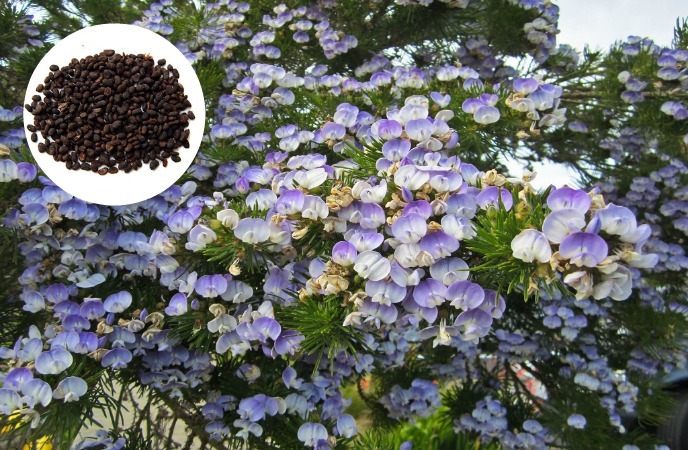 Perhaps, one of the best natural home remedies for vitiligo on face, lips, and legs is psoralea seeds.
Soak these seeds into ginger juice for 3 days

After 3 days, remove the shell of the seeds by using your hands to rub over

Let the seeds dry in a certain shaded area and grind it to create a good powder

Take 1gr of this powder with a proper amount of fresh milk. Do this
19. Chamomile Flower
You may be familiar with chamomile in the form of tea, but this plant could also be used as a treatment for vitiligo.
Mix chamomile flowers, oregano leaves, calendula and St. John's Wort and put them into a pot of water.

Boil the pot for about 15 minutes.

After the mixture cools down, apply it in the morning and evening for about 2 or 3 months in order to see good results.
20. Black Gram
The application of black gram mixed with water can do the trick for your vitiligo symptoms.
What you need to do is:
Mix the black gram powder with a small amount of water to create a good paste

Apply the paste over your infected areas and wash it off after it is dried out

Apply this method for 4-5 months to get the best results.
21. Ginger Leaves
Take a small amount of ginger leaves to grind. Then, mix it with poultice and apply the mixture over your affected white patches. After a few minutes, rinse it off with plain water. That way, you get a good solution for vitiligo.
22. Water From Copper Cup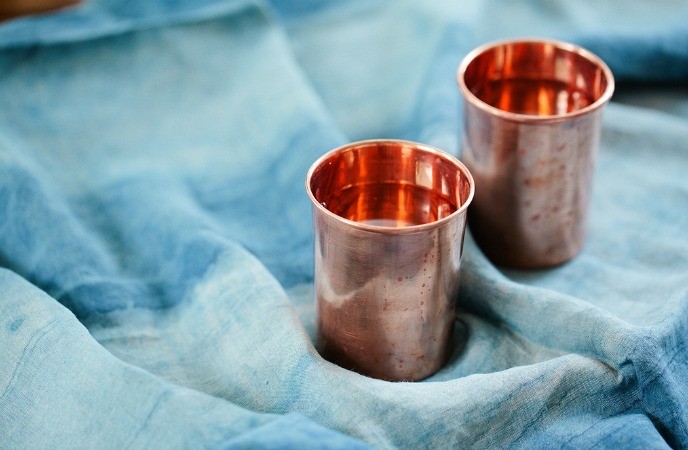 This sounds strange when it comes to the best home remedies for vitiligo on face, lips, and legs, but does work for some people.  Water stored in a copper vessel or cup can give your body the minerals necessary to treat unattractive problems. Remember that the water should be stored in the container for a significant amount of time for the best results. It will increase the production of melanin, thereby giving your skin its natural color. But, beware that this remedy should not be consider as a sole treatment for vitiligo. In fact, it can be used along with other home remedies for vitiligo for better results.
23. Indian Lilac Leaves
You can make a juice of Indian lilac leaves, drink this solution daily for the best results. As the juice has essential minerals as well as compounds which are beneficial in treating this condition, it is one of good home remedies for vitiligo on lips, legs, and face.
24. B Vitamins
More specifically, go for vitamin B9 and B12. According to a study, it was shown that people with vitiligo have a nutritional deficiency of vitamin B9 and B12. Therefore, if you want to promote your treating process of vitiligo, you should opt for foods containing a significant amount of vitamin B9 and B12. These vitamins are available in dried herbs, yeast extract, sunflower seed, chicken, cheese, beef, milk, liver, whole egg, yogurt, fish and pork.
25. Copper
Being a vital mineral for the human body, copper has a wide range of benefits, including vitiligo treating. People suffering vitiligo, copper is vital because it helps eradicate free radical which damage melanocytes while promoting the production of melanin. Indeed, a moderate consumption of copper-rich foods has been found to be effective in treating vitiligo and other skincare issues. Copper-rich foods include oysters, liver, cocoa powder, nuts, chocolates, lobsters, calamari, dried tomatoes, watermelon seed, pumpkin seeds, ground ginger, and soybean sprouts.
Warning: Do not consume too much copper because excess consumption of this mineral might result in senility, cramps, diarrhea, hypertension, vomiting, depression, insomnia, and schizophrenia.
27. Picrorhiza Kurroa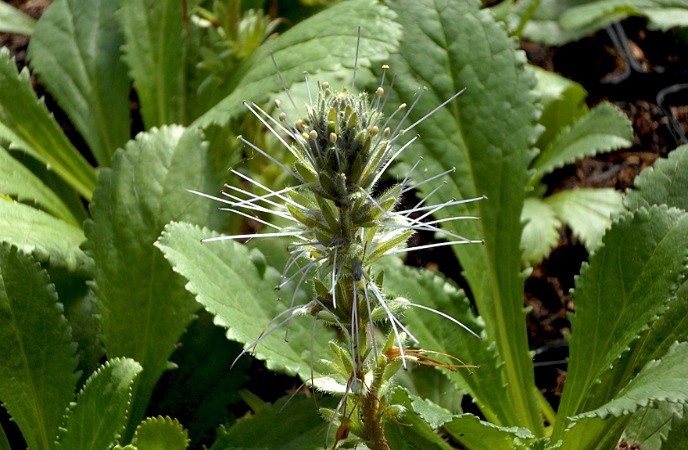 Picrorhiza Kurroa is an herb having strong medicinal properties and used in Ayurvedic medicine system for curing a lot of afflictions. Thanks to the chemical compounds picrorhizin, glycosides, D-mannitol, steroids, curcubitacin, and vallic acid, this herb is one of effective home remedies for vitiligo on lips, legs, and face. Also, it has antioxidant, anti-inflammatory and cathartic properties, thereby reducing platelet aggregation.
Mix 1 teaspoon of Picrorhiza Kurroa root powder with 1 glass of warm water

Then, add 2 teaspoons of raw organic honey to the solution.

Drink it every day for a few weeks to remove vitiligo symptoms.
While the herb Picrorhiza Kurroa does not lead to any serious side effects, it still causes rashes, itching, diarrhea, vomiting and anorexia in some people.
28. Herbal Mixture
This is the last one among the best natural home remedies for vitiligo we would like to encourage readers to learn and make use for good!
Take a couple of each of chamomile flowers and calendula flowers, and 4 to 5 oregano leaves to boil them up with a proper amount of water for 10 minutes or so.

Strain the mixture up and let it cool.

Apply the solution over your affected skin areas.
With medicinal properties, chamomile flowers can help treat ulcers and wounds. It can used as a skin wash. Furthermore, the antiseptic, antibacterial and anti-inflammatory properties of chamomile also make it a great solution for dandruff and acne. When mixed with oregano and calendula, it creates a good remedy for vitiligo and other skin issues.
This DIY homemade herbal medicine does not cause any side effects, so you can use it without hesitation.
After reading thoroughly our article about 28 best home remedies for vitiligo on lips, legs, and face, you now can know how to treat vitiligo using natural ingredients and herbs. However, it is the best to consult your doctor before using these methods. Besides, if you have any severe itching as well as burning sensation, of if your infection seems to be spreading too fast, see a doctor instantly.
Leave your comments below this entry to let us know what you think. Or, just simply share your experience and success of treating vitiligo to help other people cure this condition like you. We appreciate so much and will reply you as soon as possible.