To learn what sex position works for you, you should keep it simple to start. Trying to do complicated sex positions can distract you from the sex, and put your focus on contorting yourself; therefore, you cannot experience the sensations. As a result, in order to climax, you should try the simplest positions at first. And, in this article, Healthy Guide will show you some sex positions for women recommended by experts.
List Of Best Sex Positions For Women To Practice At Home
Before discovering good sex positions for women, it is important for you to understand the reasons why many women do not have orgasm during sex. And then, we will show you some recommended sex positions that can help you have orgasm more easily and improve your sexual health effectively.
I. Why You Don't Orgasm During Sex
According to a study [1], many women admit that they do not have orgasm during sex and some women never climax in their lives. Most women require direct clitoral stimulation to have orgasm, and the penis penetrating the vagina just does not do that. If you are coming during penetration, your clitoris is sensitive and it is located close to the vagina. And you cannot have orgasm from sex in case the distance between your clit and urethra is over one inch.
Another reason for some women find easier to have orgasm during sex is that they are in sex positions that stimulate their sensitive G-spots. Therefore, the best sex positions for women are ones that offer easy access to your clitoris and G-spots.
List of 19 Best Sex Tips For Married Couples To Fire Up Your Love will show you some of the best sex tips to improve sexual life for married couples, so check it out!
II. Some Sex Positions For Women Orgasm
Here are some of the best sex positions for women to orgasm. They can help women easily achieve orgasm. They include:
1. Cowgirl Style
This should be the first one among easy sex positions for women that we want to mention in this article. The sex position with woman on top can stimulate a woman's clitoris without losing momentum. Instead of wondering when your partner is going to thrust to satisfy your erotic needs, set the rhythm and then take him in as shallow or deep as you like. Or, when you are on top, you can tantalize by squeezing as well as releasing your pelvic floor muscles. Bend over, give your partner a kiss and then sit up and let him play with your boobs.
Read on 14 Health Benefits Of Kegel Exercises For Guys & Ladies Sexually & In Pregnancy to discover some of the health benefits of Kegel exercises for sexual life and pregnancy.
2. Doggy Style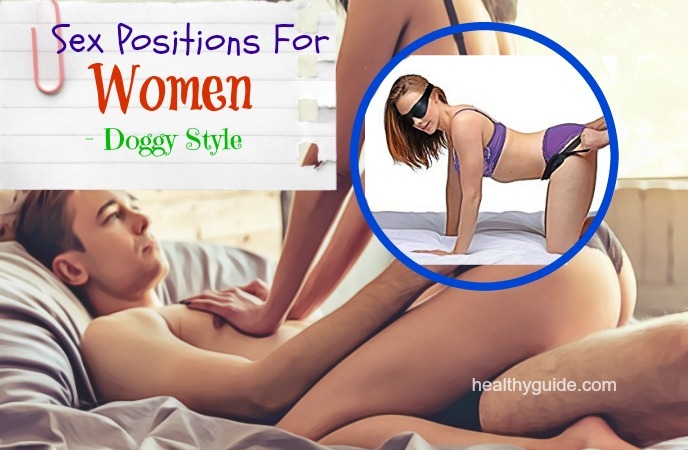 Doggy style is known as a perfect sex position for orgasm due to clitoral stimulation and G-spot sensations. The height difference can make this position difficult for some couples, so you can place a pillow under the knees while your partner enters you from behind.  Actually, this position can provide access to your clit and help you orgasm.
To know some of the simplest tips that can help men and women have an orgasm, read on 9 Tips How To Have An Orgasm For Men And Women
3. The Sticky Scissor
With this sex position, you lay perpendicular to each other while being on your back so that he faces you on his side. At the same time, one of your legs is placed between his while the other drapes over his hips. This position enables his top leg to be angled to press against your vulva whenever he is inside you. When he slowly pumps, grind against his inner thigh in order to get your required clit stimulation.
Actually, this is known as one out of the list of sex positions for women orgasm that you should not miss, but try to practice in bed.
If you want to know some of the best ways to last longer in bed for both men and women, read on Top 18 Ways To Last Longer In Bed For Men And Women
4. The Down But Not Out
While doggy style is too hot, if you want to make it extra orgasmic, modify tis sex position a bit. Simply, lie on your stomach, and slightly lift your butt so your partner can enter you. He can prop himself up using his hands in a position of push-up or simply lie on top of you. This position can provide increased friction whenever he moves in and out, and you can also grind your clitoral area.
5. Coital Alignment Technique
When it comes to learning easy sex positions for women, you should not miss this position. According to a research [2], this sex position is designed to deal with the lack of orgasms caused by missionary position. This position differs from Missionary in some key ways. First, your partner should scoot up closer to you. Second, you need to lift your hips, making your clitoris closer to his pelvis. It is recommended to place a pillow under your bottom to support. Then, your partner can focus on rocking motions instead of just thrusting.
6. Women On Top
According to a study [3], this sex position can help you achieve orgasm by allowing you to dictate the depth and pace of thrusting. You can easily touch your clitoris, or let him touch it to achieve orgasm. Twist around so you will be pointed toward his feet in the position of reverse cowgirl. In lieu of straddling your partner, place your legs together while your feet are flat between his legs. With your legs being together, you may get tighten fit, hence making your sensations more intense. Besides, there is also an increase in the internal stimulation that combined with clitoral strokes you make in order to create an explosive orgasm.
7. The Lusty Leg Wrap
With all the bending and twisting, sex can get you off. So, it is important to get a relaxed orgasm-inducing position. When you are on your back, your partner should lie on his side and turn toward you. Then, you swing both of your legs over his thighs and hips in order to create a bridge over them. Next, let him thrust into you in a gentle way. If you need some time to climax, this sex position is ideal. When you would like to climax, you can easily touch yourself or your partner can use his top hand to help you.
For other one in the list of sex positions for women orgasm, you should keep both of your eyes on the rest of this interesting article and then consider practicing any of them as soon as possible.
8. The Eagle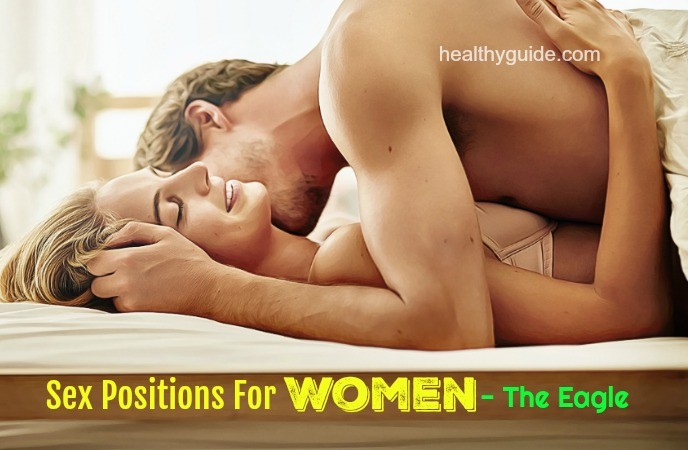 It is known as a relaxed position for those who want to receive pleasure and focus on their sensations. With feet grounded, you can lift the legs or tilt the pelvis in order to change things up. It is advised to place a pillow under the hips in order to reduce the angle needed for the giver's neck. With this position, you can also have eye-contact with your partner. It is also recommended to get a sex wedge pillow for better switching up or angling the position. The giver kneels on the floor while the receiver lies with hips at the edge while placing feet over the other's shoulders.
9. The Up And Over
This is another one among the easy sex positions for women that we want to mention in this article. While on your back, you can place a pillow under your bottom, slightly lift your hips, and then bring your legs up toward your shoulders. This position will allow your partner to thrust and penetrate more easily. For a more intense orgasm, put your legs down and let him practice coital-alignment-technique position. Your partner is on top while lifting his pelvic bone upward, making a line with your clitoris. After that, he thrusts in the area until you climax. This position can increase sensitivity and create more intense orgasms.
10. Lotus
According to a study [4], this sex position is worth trying if you want to have more orgasms. To start this sex position, your partner should sit down and then cross his legs. After that, you sit in his lap while your legs wrap around his back. The position is very intimate when both of you have face-to-face contact as well as the ability to kiss. Besides, in this position, rocking may work better than thrusting.
Therefore, if you are looking for best sex positions for women, you should not look down this position, yet try practicing it tonight.
11. Rear Entry
This is another one out in the list of sex positions for women orgasm that you should give it a try! In this position, you lie on your stomach while he enters you from behind. You can also tweak this sex position for greater clitoral stimulation. Firstly, place a narrow pillow under your hips or use a soft pillow to lift your hips. Then, place your favorite vibrator between the pillow and your body.
After knowing some of the best sex positions for women, here are some tips that you should not ignore when it comes to receiving orgasms:
Use toys: In some cases, using toys can make it easier to orgasm. It also helps reduce the strain that your partner have to keep an erection.

Do not just focus on penetration: Incorporating fingers and tongues can help you receive orgasm during sex.

Use pillows: They can be helpful in some sex positions and stiffer pillows are good for positioning.

Grind away: Both grinding and humping are good for stimulating your clitoris [5]. Therefore, the best sex positions for female orgasm may be those to grind against the body of your partner when he is inside you.

Add lube. It makes initial penetration easier and also helps you go longer.
After reading this article, we hope that you and your partner can practice some of these sex positions from tonight. All of these sex positions can help women have orgasms more easily and improve their sexual life. If you know other good sex positions for women, you can share with other female readers by leaving your comments below. One more thing, if you want to know more about sexual health, you can visit our Sexual Health Category.