When it comes to sexual health, there are many things a doctor wants women to know. It is important for you to know that avoidance and misinformation can create chaos in your sexual health and happiness. In this article, Healthy Guide will show you some of the important things a doctor wants women to know about their sexual health.
List Of Important Things A Doctor Wants Women To Know About Their Sexual Health
Now, if you want to know more about sexual health facts for women, you should keep both of your eyes on this interesting article.
1. Know About STIs
This should be the first one among important things a doctor wants women to know about their sexual health to improve sex life and health that we want to mention in this article. According to a study [1], STIs are preventable but some of them are untreatable; therefore, it is very important to know the basics and how to prevent STIs. When you are diagnosed with STIs, you may have an infection. However, it can be curable and does not cause any symptoms. Nonetheless, if an STI changes your body's function, it may become a sexually transmitted disease. Also, sexual health doctors stress the importance of understanding STI terms such as HSV, HIV, HCV, HPV and HBV. It is also important to protect yourself and get educated.
List of 17 Natural Treatments For Gonorrhea In Males And Females will show you some of the best natural treatments for gonorrhea in both men and women, so check it out!
2. Talk To Your Partner About Sexual Health Before Having Sex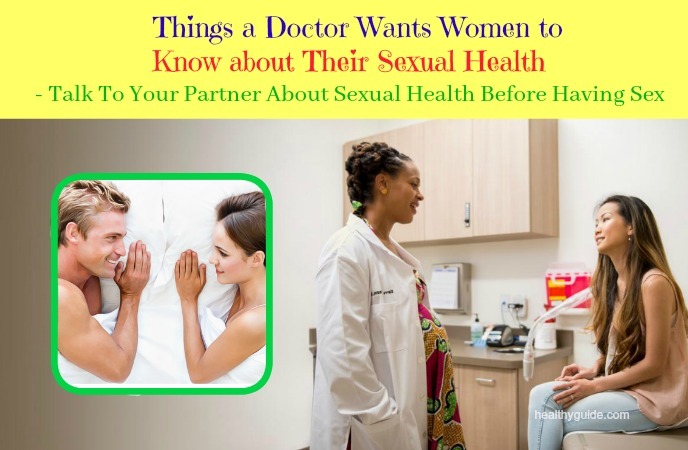 Talking with a new partner about sex may be important. Now is the time to know if they use protection, how often they get tested, and what kind of protection. Although it is easier to have sexual activity than talk about it, you need to discuss STIs and contraception before having sex.
Read on 14 Tips How To Increase Female Libido Fast, Naturally, Instantly After 50 to discover some of the best ways that can help women increase libido naturally after 50.
3. Get Tested For STIs Regularly
According to a research [2], getting tested for STIs regularly is very important. It is best to get tested at least yearly, especially when many STIs show no signs or symptoms. The most common STI test done is for HIV, chlamydia, gonorrhea, and hepatitis. Besides, HPV and herpes are more difficult to test and diagnose; therefore, you should speak with your doctor about what you exactly want to get tested for.
4. Keep Records Of STI Screens
To control women's health, there are lots of things to discuss with your sexual health doctor during a medical visit. So, it is a good idea for you to know your sexual health history and medical history. Keep a record of your health problems, such as surgeries or hospitalizations, and even other things like your last STI screening and past meds. This will help you have the best medical care.
A lot of people are unaware of their medications such as birth control pills and antidepressants because they can reduce your interest in sexual activity. Depression, anxiety, fatigue, stress and endocrine dysfunction are some health conditions that can affect your sexual health.
5. Be Sexually Responsible
When it comes to learning things a doctor wants women to know about their sexual health to improve their whole every day life, you should try to be sexually responsible. To take care of yourself sexually, you should remember that birth control is on both people. You may get the best protection by using a barrier method like condoms combined with a prescription method like the pill. Actually, preventing STIs and unwanted pregnancy is very important.
To know some of the best ways to boost sex drive in females naturally after menopause, read on 24 Tips How To Boost Female Sex Drive Fast Naturally After 50 & Menopause
6. Have Good Post – Sex Practices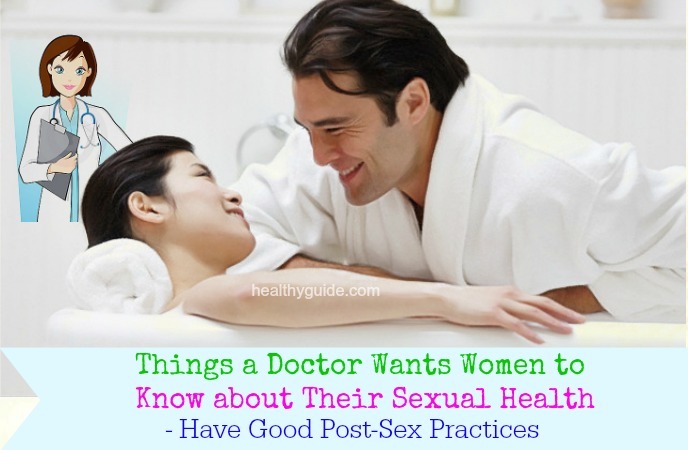 It is important to pay greater attention to your hygiene after having sex. Your natural lubricants as well as semen from your partner can change your vaginal pH balance, making infections more common. Therefore, you should empty your bladder after sex in order to remove bacteria that can have been pushed into your urethra during sex. Besides, allowing excessive semen to remove from the vagina to keep your vaginal pH balanced.
Sexual health doctors also advise other post-sex practices such as cleansing the vulva using a mild soap and warm water. Then, dry the vulva with a clean towel before putting on clean underwear. Keep in mind that moisture on the vulva can cause yeast infections. Also, you remember to wipe from front to back in order to prevent an infection.
If you want to know some of the natural ways to restore vaginal pH naturally, read on 9 Tips On How To Restore Vaginal pH Naturally And Fast At Home
7. Do Not Stop Taking Your Medication
You do not stop taking your medication without consulting your doctor first. Your medication can include antibiotics, or birth control pills before the course is completed. Actually, this is known as one of the most important things a doctor wants women to know about their sexual health that you should not look down, yet apply for good.
8. Do Not Rely On Internet Research
You may find it easy to self-diagnose yourself by simply looking up your signs and symptoms online; however, in some cases, it is not a good solution. Of course, it is best to see your doctor face-to-face. Also, you do not take expired antibiotics or extra pills. Besides, websites and blogs do not surely provide the correct information about treatments. So, it is important to remember that relying on Internet research can make you make mistakes on sexual health.
9. Do Not Ignore Pains Or Other Symptoms During Or After Sex
You can find it easy to dismiss pains or burning with urination during or after sex. During sex, you can have some moments of discomfort. Let your sexual partner know that you need a pause, and then go to see a sexual health doctor in order to rule out an infection or abnormal growth.
If you want to know other great things a doctor wants women to know about their sexual health, you should continue to read the rest of this article right now.
10. Do Not Look Down Foreplay
According to a study [3], foreplay is another factor you should pay attention when it comes to sexual health. The importance of having foreplay allows the body to become aroused. Also, having sex can become more pleasurable with the help of lubricants. As women age, their sexual desires can change; therefore, if you are concerned about your body's changes, you should discuss it with your doctor.
11. Know The Root Of Underlying Relationship Problems
The mental state of mind affects your physical health and sexual health. So, it is important to know the root of underlying relationship problems between you and your partner. Apart from your physical and mental health, the relationship with your partner can affect your sexual satisfaction. Studies found that low sexual desire was linked with emotional and psychological distress, as well as reduced sexual and partner's satisfaction.
12. Do Proper Control If You Do Not Have Safe Sex
Although it is best to have safe sex, if it does not happen, you need to take action morning after. You can use emergency contraception to prevent unwanted pregnancy. If you experience sexual activity without consent, you should get an ER where you can be taken care of yourself through the process with support. Actually, if you have unsafe sex, you should do proper control as soon as possible.
13. Lifestyle Factors Can Affect Your Sexual Health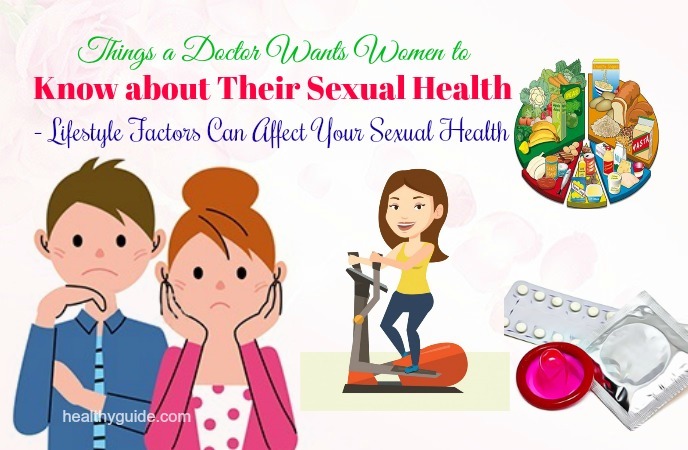 This is another one among important things a doctor wants women to know about their sexual health that you should not look down. Many factors including exercise, diet, and work-life stress can affect your sexual health. These effects are hard to acknowledge, and these problems are also not easy to fix. Therefore, you should talk to your sexual health doctor for proper guidance. For example, you have recently used a new type of birth control pill.
14. Having Sex May Benefit Your Health
When you stop working out, some of your muscles will begin to atrophy. And, the vagina does the same. After menopause, the vagina as well as its surrounding tissues starts to become thin, and they lose elasticity when the levels of estrogen [4] decrease. Having sex and orgasms work as a workout, enhancing blood flow to the vaginal tissues. Therefore, you can make use of sex to benefit your health.
15. Therapy Can Be Helpful
This is the last one among things a doctor wants women to know about their sexual health that we want to mention in this article. If you are feeling unsatisfied and have sexual problems, aside from talking to your partner, you should consider seeing a sex therapist. Having 1-2 appointments with a sex therapist can help you know the root of your problem and then you will be able to overcome it more easily.
After reading this interesting article, we hope that you can know some of the most important things a doctor wants women to know about their sexual health. If you think that this list can help other women you know, you should share this list with them right now. Also, if you have any ideas about this topic, you can feel free to leave your comments in the comment box below. One more thing, if you want to know more about sexual health facts and tips, you can visit our Sexual Health Category.